Temporary Warehousing Tents & Storage Tents
Cost-efficient, secure, and durable storage tents - Solving supply chain challanges
Before you lease or buy a temporary warehouse or storage facility, you should contact American Structure Tents and learn about the cost-effective and durable temporary warehouse and storage tents we have to offer.
A few common uses include:
Seasonal inventory storage and summer overstock sale tents
Temporary industrial equipment storage
Office expansion temporary storage
Equipment & tool supply areas
Construction material storage
Relocating a company or organization 
Manufacturing space solutions
Service Station for trucks or machinery
American Structure Tents can have your temporary warehouse or storage tent up quickly so you can get back to normal business operations. There are many different sizes of tents, and we offer a host of different tent rental durations to fit any need. We are highly experienced in our field, and we are up to date on all the modern tent structures and accessories.
American Structure Tents understands that not every project is the same, and we have the ability to customize a solution that fits your unique need. When you choose American Structure Tents, you're choosing quality, professionalism, and a company with the experience required to excel in the engineered structure tent industry.
Temporary Warehouse - Fabric Buildings - All Seasons
Clearspan structure rentals are one of the best options for temporary warehousing. These structures carry an engineered snow load so that they can be using in the winter time.  You can install these structure tents on concrete, grass, asphalt, gravel and a variety of other surfaces. Overhead doors and man doors are often requested by building departments. We offer a variety of different leg heights such as 10′, 14.5′ and 20′. 
A lot of companies are looking for turn-key solutions to their temporary storage challenges.  If you are remodeling, constructing a new warehouse facility or just looking to increase you onsite storage space. Structure tents are quick to install relative to a building. Typical lead times can be 3-weeks or under. 
Turn-key solutions are an absolute must for a lot of companies that have storage challenges. One of the advantages is that you do not need to pour a foundation for structure tents. They can be installed right in your parking lot, grass, field and many other surfaces. 
Typical install times for large structure tents are between 3-days to 2 weeks. 
Engineered to meet your building departments specific requirements. Snow, Wind, Egress, Lighting, Sealed PE Engineered Drawings. 
Heavy-Duty Turn-Key Storage Solutions
The best thing about clearspan tents is the flexibility of use on almost all types of surfaces. These engineered clearspan tents can be used on level or unlevel ground, grassy areas, parking lots, dirt lots, and more. No matter the location of the venue, American Structure Tents can provide the best solution for your intended purpose.
Commercial warehouse structure – temporary ( 6 months or less )
Temporary Warehouse
Temporary storage solutions 
Temporary storage structures with pallet racking 
Temporary Fabric Buildings – Semi-Permanent (2-6 years )
Equipment Storage & Turn Key Solutions
Long-Term Tent Rental for Snow Covers
Temporary Fabric Building with overhead doors 
Overhead doors + loading dock rental 
Snow Load Tent Rental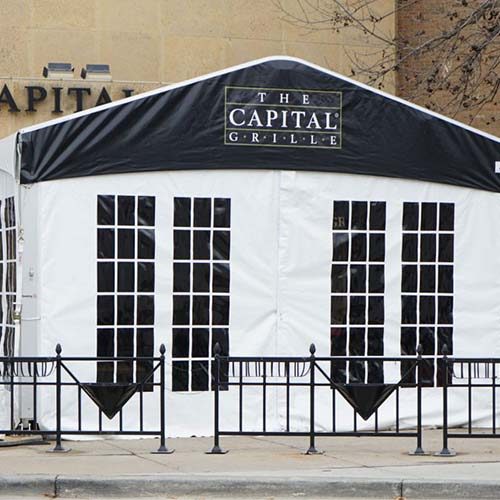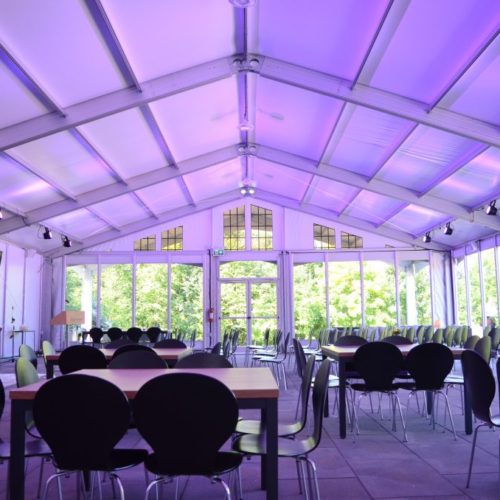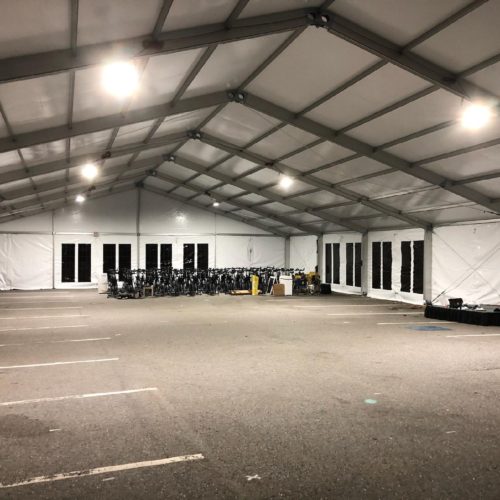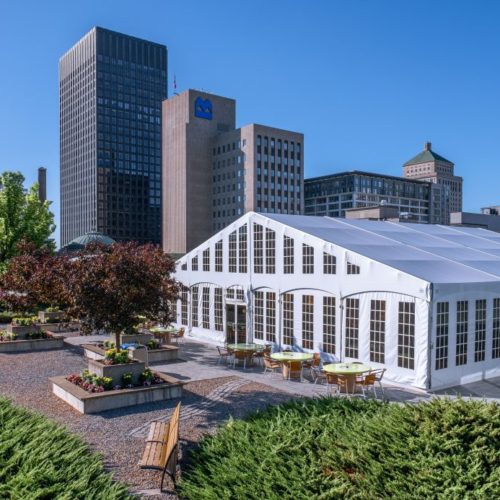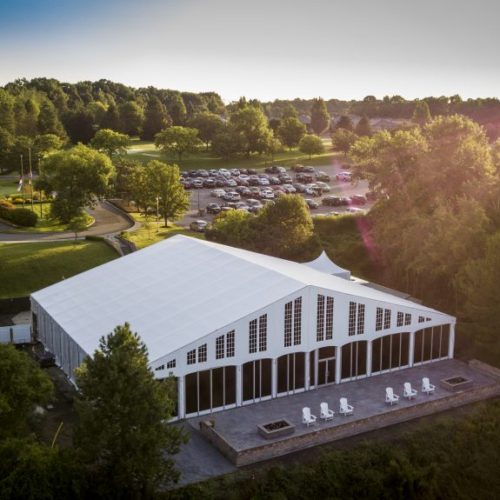 Serving Michigan, Massachusetts, Illinois, Ohio, New York & more!
We're a leading structure tent rental company in the USA.